CHARGER-GEL
CHARGER-GEL - contains time tested, powerful immuno-modulators like 1-3 D-glucan, polysaccharides, betain, betaglucans which are capable of working even in shrimp primitive immunomechanism to boost immunity.
CHARGER-GEL - acts by stimulating macrophages, receptors the main cascade of immuno-defence arsenal in shrimp.
CHARGER-GEL - also activities bacteroids, phagocytosis, encapsulation mechanism of immunology by prophenoloxilase enzyme (Pro Po) system.
CHARGER-GEL - protects the secretory and excretory glands to gear up the general health by improving appetite, digestion, FCR, green gland, heptopancreas function and helps as a growth stimulant indirectly.
CHARGER-GEL - detoxifies any feed, myco and pathogenic toxin sand saves the hepatopancreas from degeneration.
CHARGER-GEL - rejuvenates Hepatopancreas by neutralising myco, viral, entero and bacterial toxins by oxidation, reduction and acetylation enzymatic process.
CHARGER-GEL - acts as lipotropic agent by leaching the fatty deposits and improves the functional capacity of the hepatopancreas saving it from lysis of cells.
CHARGER-GEL - contains all safe and natural compounds which are generally considered as GRAS and does not require any withdrawal period.
CHARGER-GEL - can also be mixed with any antibiotic or chemotherapeutic if need be.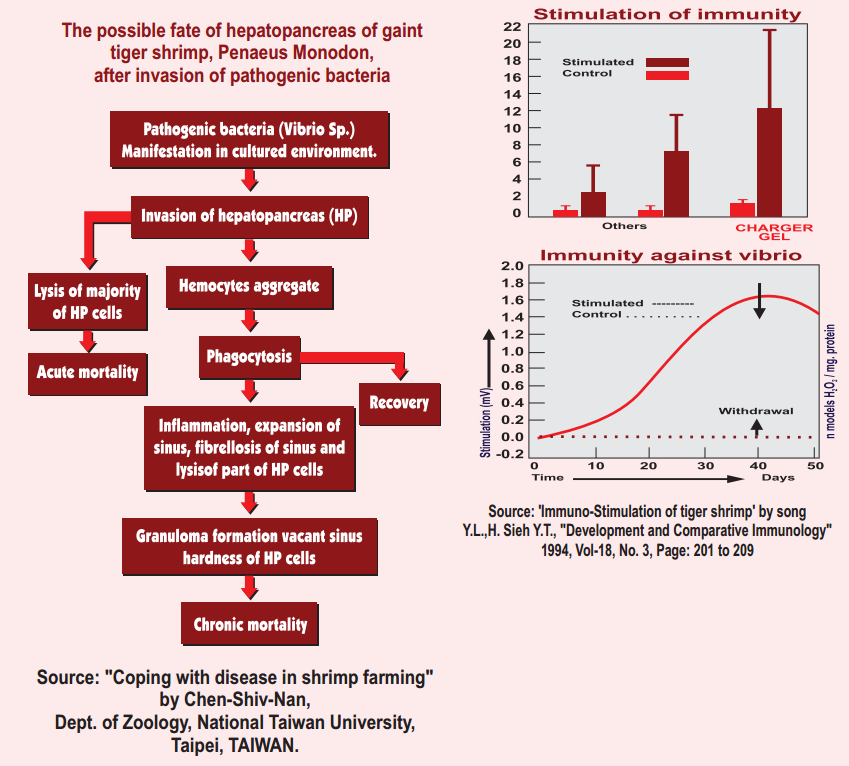 Application : Take appropriate quantity of CHARGER-GEL and feed. Mix thoroughly in a tub, shade dry and broadcast.
Dosage : 8 gms. / kg. of feed pellets in the evening.
Packing : 1 kg. tins.